Reaching the peak: North America paper and building products companies aim high to close the paper recycling loop - Top 20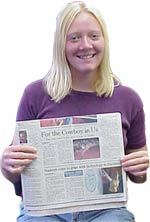 For centuries, the notion that paper was made from trees (or if you go back to ancient Egypt, from papyrus plants) was an indisputable observation similar to saying the sky was blue.
But increasingly during the past few decades, the paper or boxes that we hold in our hands may quite possibly be made without any trees, wood chips or virgin pulp in the mix. Instead, scrap paper and box material finding its way back to pulping machines is comprising up to 37 percent of the fiber used in paper products made in North America today. Some of these products are made with 100 percent secondary fiber, while others feature a blend of scrap and virgin materials.
Paper and boxboard manufacturers in North America have taken part in an impressive industry initiative to tap in to the "urban forest" of scrap paper generated at factories, office buildings, schools and curbside recycling programs.
Among the companies closing the recycling loop for scrap paper are diversified forest products companies, corrugated packaging makers, tissue and other specialty paper makers and building products companies.
As with previous Recycling Today "20 Largest" lists, we received replies from some but not all of the companies we contacted. In some cases, we placed companies on the list based on estimates from industry sources. The list of North America's 20 Largest Scrap Paper Consumers that has been created ranks the companies based on the amount of scrap paper pulped or otherwise consumed at North American facilities. Following, we present brief profiles of these companies, hopefully revealing in part how they got to be among the biggest (and presumably best) in their industries.
Listing the largest, most active companies is a way to gain recognition for what a company and its employees have accomplished. It his taken research and hard work by a lot of people to shift entire mills from processes employing forests products to those using scrap paper.
1. SMURFIT-STONE
Chicago-based Smurfit-Stone Container Corp. (SSCC) has developed, after a number of industry mergers and acquisitions, into what it calls "the industry's leading integrated manufacturer of paperboard and paper-based packaging."
The company's roots can be traced to Ireland. In 1974, Ireland-based Jefferson-Smurfit entered the U.S. market by purchasing an existing company here. Additional acquisitions increased its presence both in the packaging and recycling industries. In November of 1998, Jefferson Smurfit merged with Chicago-based Stone Container Corp., a corrugated packaging manufacturer with roots tracing back to the 1920s. The combined firm employs more than 30,000 people worldwide, with many of them involved in either collecting and processing recycled paper or pulping it into a finished product.
Smurfit-Stone is a leading producer of containerboard, including white top linerboard; corrugated containers; multi-wall and specialty bags; and clay-coated recycled boxboard.
The company's recycling arm annually processes and sells more than 6.5 million tons of materials, focusing primarily on scrap paper, much of which is consumed by its network of some 250 mills and plants throughout the U.S.
2. WEYERHAEUSER
Multi-national forest products company Weyerhaeuser, Federal Way, Wash., may have its roots in timber, but it has embraced paper recycling. The forest product company's roots trace back in 1900, with the paper recycling segment of the business beginning in 1974.
As noted in the company's 2002 "Citizenship and Environment Report," the company has maintained a steady use of 40 percent recycled fiber in its paper products from 1998 to 2002.
In 2002, Weyerhaeuser helped collect more than 6 million tons of scrap paper and used 4.3 million tons at its own mills. The company's scrap paper consumption increased when it bought Willamette Industries earlier this decade.
On the collection side, Weyerhaeuser offers a range of services including national account services for multiple-location generators; integrated waste and recycling services for manufacturers and retailers; obsolete paper products recycling; secure document destruction; and on-site baling and compacting.
3. GEORGIA-PACIFIC
Atlanta-based Georgia-Pacific produces an impressive variety of building supply and consumer products at mills and facilities throughout the U.S.
In 2002, die company consumed some 3.4 million tons of scrap paper in the course of manufacturing some of these products, including paper towels, office paper, wallboard and packaging materials.
GP's status as a scrap paper consumer has grown considerably with some of its more recent acquisitions, including the 2000 purchase of the former Fort James Corp., a maker of towels, tissues and disposable drinking cups.
In the 1990s, the company's acquisition of Great Northern Nekoosa Corp. and CeCorr greatly increased its presence on the corrugated packaging side of the business.
4. ABITIBI CONSOLIDATED
Abitibi-Consolidated, Montreal, is a leading global producer of newsprint and other grades of paper, operating 27 paper mills primarily in Canada and the U.S.
In the U.S., the company has a recycling division based in Houston. That division not only procures scrap paper for use at its own mills, but also operates recycling plants in nine U.S. cities that accept various recyclable commodities.
According to its Web site, the "North American Paper Retriever Program places highly visible bins in participating cities to encourage Community involvement in the paper recovery process, It also features local events and partnerships to further raise environmental awareness."
5. CASCADES GROUP
Based in Kingsey Falls, Quebec, Canada, Cascades Group has been a leader in using de-inking technology to use recovered fiber in the production of packaging products, fine papers and tissue papers.
Cascades estimates that two-thirds of the raw material used by the its various operating sectors is fiber that has been recycled. "Since 1964, we have been developing noted expertise in the area of collecting and reclaiming discarded containers, packaging and printed material," the company states on its Web site.
6. SONOCO
Packaging is the key market for Sonoco, Hartsville, S.C. The company has used recycled materials as part of its feedstock since the 1920s, according to the company's Web site.
Sonoco's packaging operations consume more than 1.5 million tons of scrap paper that goes into a variety of products, including spiral tubes and cones for winding textiles; composite cans for foods, beverages and other products; and a variety of other paper-based packaging.
According to a statement on its Web site, "One of Sonoco's goals is to incorporate as much recycled material in our products as possible," such as 100 percent recycled-content paperboard.
7. BOWATER INC.
Known primarily as a newsprint maker, Bowater Inc., Greenville, S.C., operates 12 pulp and paper mills, primarily in the U.S. and Canada.
In 2002, the company used more than 1.3 million tons of scrap paper, relying heavily on the ONP (old newspapers) and OMG (old magazines) grades. (Most of that amount was consumed in North America, although the company's one mill in South Korea also consumes recycled fiber). The company's Coosa Pines, Ala., newsprint and market fluff pulp mill is furnished entirely by scrap paper, as is its South Korean mill.
8. TEMPLE-INLAND INC.
The Inland Packaging division of Temple-Inland Inc., Austin, Texas, consumes considerable quantities of OCC in its container-making operations.
In a recent environmental report to shareholdrers, the company touted its own legacy as an industry leader when it "developed technology and Built Facilities that were the first to utilize old corrugated boxes to produce medium and linerboard that are comparable in quality and strength with virgin wood-based products."
9. CARAUSTAR INDUSTRIES
As with many of the other paper companies on this list, surrounding forests spawned Caraustar Industries, Austell, Ga.
Caraustar has been making paperboard and other products since 1938, incorporating initially as Carolina Paper Board Corp. The company has subsequently grown through acquisition and vertical integration. Boxboard remains one of Caraustar's largest markets, along with the facing paper used by gypsum wallboard manufacturers and tubes, cores and composite containers.
10. NEWARK GROUP
The Newark Group, Cranford, N.J., consumes tons of OCC, ONP, mixed paper and other grades to produce 100 percent recycled paperboard and other products.
The company operates 12 mills and 27 converting units as well as a recycling collection and processing division to help keep those Facilities furnished.
The company's roots in recycling run deep, with company staff members receiving a patent in 1893 for a process to convert old newspapers into a paperboard product.